Wilson Roofing has donated a $12, 000 Re Roof job to the Gregory family.
The Gregory's have been going through financial problems due to the tough economic times. Ian Gregory had been laid off at his job and low employment rates have made it difficult to find another one, while Carolina Gregory works full time as a nurse. It's only just enough to get by because of the high mortgage payments and interest rates.
They bought a 3 bedroom house in 2007 responsibly to what they could afford. But the unexpected economic downfall has left them with a burden.
The youngest, 2 year old Chad Gregory's bedroom ceiling was found infested with mold caused by a leak in the roof. This was an alarming health hazard and a big concern to the Gregory's. Due to the tough times many options weren't open for them it was hard enough to make ends meet. Ian and Carolina had no idea how they were going to come up with the money to fix this emergency.
Wilson Roofing heard about the story in the local newspaper. "The out cry for help touched us we let out a helping hand Because of our understanding that people end up in unfair circumstances. We also, believe that if every can help one another out in stressful times like this economic downfall. It will be easier to get through with our lives. We just want to make a world a better place and give back to our community". The Gregory's we're thankful and appreciated the high quality work we did on their Roof for free.
We're just glad we could make a difference. Don't let go of your hope in tough economic times like this, anything is possible.
Tags: Vancouver Roofing Company, Vancouver Roofing, Vancouver Roofing Service, Vancouver Roofer, Vancouver Roofing Contractor, Vancouver Roofing Services,
div class="article">
RIDGE VENT
Ridge Vents
are Installed on slopped roofs. The ridge vent is made out of a fibrous material This allows warm and humid air to escape a building attic. This type of vent is most common on asphalt shingled roofs.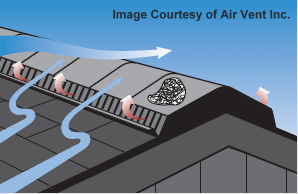 Before Cutting into the plywood at the peak of the roof where the plywood sits. Our crew installs peel & stick membrane and felt paper along the along the wall so that any water is directed onto the roof instead of the flashing. When cutting the top for the ridge vent. We use a caulk line to guarantee a straight cut and snap a line 3 inches down from the top ridge. After the cut has been made the loose sheathing is removed and cleaned leaving a gap on both sides of the ridge.
Next the ridge vent material is rolled out along the edge and nailed down every 6 inches. Once this is complete it is time for the last step, capping.
Goose Kneck
A galvanized
Goose Neck
style roof vent for dryer that is so fine-tuned that it creates literally zero back pressure. Other popular roof vents can add .45 wci of pressure to a system. This is the new taller gooseneck version of the DryerJack and features an industry first curved damper. It works on any slope roof including flat roofs.
It is also the preferred roof vent for regions of heavy snowfall and for high profile tiles. This large galvanized roof cap has a plate (flange) size of 12" x 14" and the structure is 6" wide x 8" and about 8" high. All material is 28 gauge galvanized steel. It has a 4 inch diameter collar that is 6 inches long to allow use on a flat roof deck.
There is no screen in this vent as it is assumed it is being used for clothes dryers. Unlike other roof vents this light-weight galvanized damper is curved which increases the efficiency dramatically.
The opening is twice the area of the round pipe portion and with the curved damper, there is ZERO back pressure produced. The collar penetrates the plate about 3 inches and is sealed to the plate with a silicone bead.
It will work on a flat roof as long as there is no chance of standing water due to a plugged up scupper or drain. The slope and the smooth surface of the damper make it difficult for a bird to build a nest. The inventive lip on the front where the damper rests is such that it becomes virtually inaccessible to birds and rodents.
Vancouver Roofer
---
How to find a leak in a roof may be the hardest part of fixing a leaky roof. Finding the actual spot where the roof leaks is difficult because water can enter the roof in one place and run down to another before it starts soaking into the ceiling.
You know the roof is bad if shingles are missing or obviously damaged, or when water stains the ceiling or walls. The goal is to find the leak before the entire roof goes bad.
If you have an attic, the easiest way to spot the leak is to up there on a rainy day. Water will reflect light, so bring a flashlight along. Once you locate the source of the water, mark the area. On a nice day, have a helper tap on the mark while you're on the roof. After you pinpoint the location on the exterior of the roof, apply roofing cement or new shingles as needed.
If you don't have an attic or just can't find the source of the leak, you can check several places for problems with moisture or damage:
Boots, the rubber seals that are around the electric service and plumbing vent pipes, air vents, and exhaust fan flashing.
Ridge cap
Flashing
Gaskets around pipes
Shingles
Gutters and downspouts
Dormer valleys
If you don't want to wait for rain to look for the leak, try bringing the garden hose up on the roof. Run the water over the place where you think the leak might be located. Don't go crazy with the water; be sure to start small. Have a helper stationed in the attic with a flashlight looking for moisture. The water will reflect the light and make it easier to see.
Tags: Vancouver Roofing Company, Vancouver Roofing, Vancouver Roofing Service, Vancouver Roofer, Vancouver Roofing Contractor, Vancouver Roofing Services,
---
We have just completed another roofing project for an ecstatic customer in North Vancouver.
Our Vancouver Roofing Service consist of detailed procedures. First, a bin is delivered to your home so we can dispose of waste and garbage. Also, allowing us to clean up after our selves before the end of each day.
Next we lay down tarps and plywood to protect your property and valuables from potential damage. Then after we are 100% sure your property is safe and secure our team begins to tear off the old roof. Dropping old waste/product into a protected safe drop zone that has been strategically set up.
Once the old roof has been torn of, synthetic or tar paper will be applied for extra protection against moisture and water damage. Once this is complete we start applying the new shingle installation to the roof top. When the project is completed our last and final step is to make sure the home owner is 100% satisfied!
Tags: Vancouver Roofing Company, Vancouver Roofing, Vancouver Roofing Service, Vancouver Roofer, Vancouver Roofing Contractor, Vancouver Roofing Services,
---